CIK NanoTek's three core technologies
CIK NanoTek's three core technologies
Description of Core Technologies
Our company has three core technologies: ultra-fine particle manufacturing technology introduced from Nanophase Technologies Corporation in the U.S., powder processing technology such as proprietary surface treatment and dispersion technology, and resin processing technology owned by the Takiron Seiai Group. The technologies and products we have developed are being applied to smartphones and semiconductor-related devices, contributing to the enrichment of people's lives.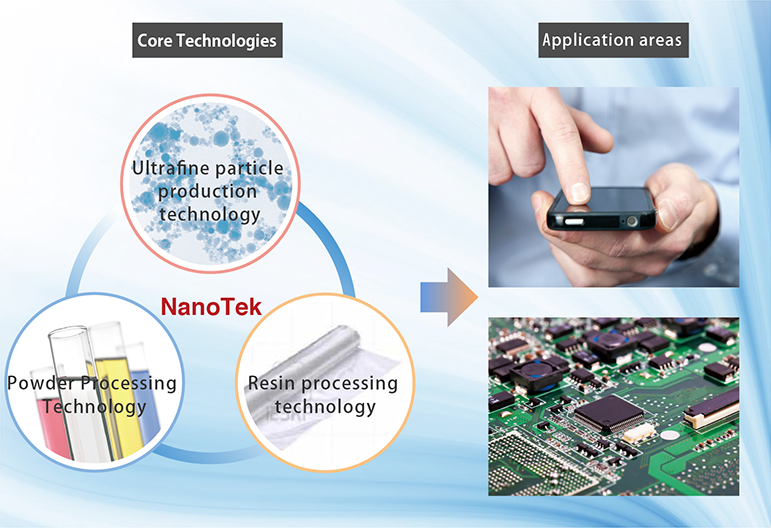 Ultrafine particle production technology
We manufacture ultrafine particle materials using the "Physical Vapor Synthesis (PVS)" method, which is a gas-phase synthesis method.First, plasma energy is applied to the raw material (metal) to melt and vaporize the metal. Then, oxygen is introduced as a reaction gas to form metal oxides. After the metal oxide particles are formed, they are instantly cooled to inhibit particle growth, resulting in the production of nano-sized ultra-fine particle materials.

Powder Processing Technology
By fusing various materials with ultrafine particle materials, it is possible to create new functional products that have never existed before.  In order to maximize the functions of ultrafine particle materials, it is essential to unravel their strong cohesion and fuse them uniformly. In the process of responding to the various needs of our customers, we have developed our own unique powder processing technology. We have been in business for more than 20 years as a specialized manufacturer of ultrafine particle materials. We have developed countless know-how from each of the approaches we have tried in this process.