Lineup of technologies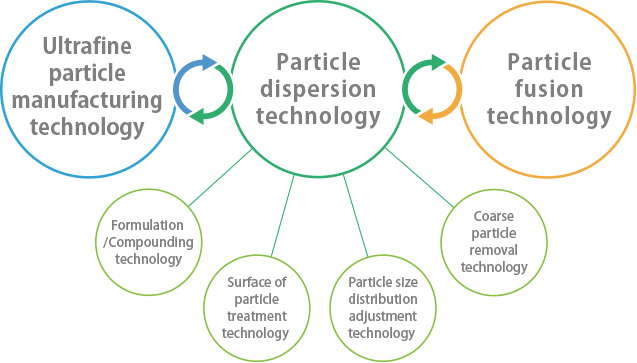 Ultrafine particle manufacturing technology
In Manufacturing technology of ultrafine particle 『Physical Vapor Synthesis (PVS method)』 introduced by Nanophase Technologies corporation, solid materials (metals and metal compounds) is generated as steam of metal atom with heat energy, then molecules of the metal compound and cluster compound is generated by contact with reactant gas.
After that, ultrafine particle materials which suppresses the increase of the particle size 「NanoTek 」 is made with quick cooling.

Particle dispersion technology
By combining ultrafine particle materials with various materials, it is possible to create
new characteristics that have not been achieved in the past.
In order to make ultrafine particle material easier to use and more effectively, we utilize knowledge of materials and formulation / compounding technologies ccumulated over many years, develop wide variety of product designs that meet the needs of customers.
Formulation /Compounding technology
We understand the characteristics, applications and usage environments required by customers, understand the type and particle size of ultrafine particle material, Considering various combinations of additives, surface treatment, dispersion media (solvents, resins, etc.), formulation / blend formulation design is carried out to maximize the characteristics of products.
Surface of particle treatment technology
Controlling surface of ultrafine particle is necessary for using ultrafine particle materials easily and effectively.
We have surface treatment technology for bringing good effects on material characteristic and propose to customers.
For example, using various surface treatment processes and know-how, control surface and enhance compatibility with dispersion media, stabilize ultrafine particle materials to dispersion media, or improving durability etc.
Particle size distribution adjustment technology
We offer not only products with a single dispersion of ultrafine particle material, but also products that adjust and control the particle size (aggregation diameter). For example, such as imparting anti-blocking property without impairing transparency, We are proposing multifunctional products by adjusting to the optimum particle size distribution.
Coarse particle removal technology
We offer distributed processing products (examples: 5 μm, 3 μm, 1 μm, 0.3 μm cut) with coarse particles removed with high precision.
It contributes to the improvement of quality and quality improvement of next-generation products with miniaturization and thinning of materials.
Particle fusion technology
In the process of developing applied products of various kinds of ultrafine particle materials, unique processing technology of powder was born. We merge the Takiron CI Group's advanced and versatile processing technology of resin and our unique processing technology of ultrafine particle, and propose the new applied ultrafine particle products. To enhance the function of plastics unlike others, we will work on development for demonstrating the potential of materials.